...or, how to spend time in an 8' by 12' storage bin
---
Summer 1999 update!
8/22/99: Pulled the head again, it's leaking in the #1 exhaust port divider, rats!
8/23/99: Ordered new rear axle. Bent and crocked... ouch.
8/24/99: Where did that washer go? Into the motor? Pulled oil pan and block. Nowhere to be found... imagination?
8/25/99: Reassembly, 107/103 with WebCam .370 intake and GSXR exhaust.
8/26/99: Back in one piece. Sounds good.
8/16/99: Pulled the head and block to install the Holeshot 1216 cc kit
8/17/99: Left the block to Virgil Naff at Lynchburg Kawasaki for bore and hone
8/18/99: Picked up the block and received the .370 WebCam intake cam. Installed pistons, block and cleaned up the head.
8/19/99: Up and running, no smoke and sounds good!
6/20/99: Race rained out so I disassembled the motor (it's just a 3 hour job). Cams (Cam Motion GX21) pitted! Luckily I found out before anything seriously happened to the rockers. Replacing the cam chain. Rebuilding with GSXR cams, more mid range grunt and easier on the valve components.
6/21/99: Cleaning and preparing for re-assembly.
6/22/99: Ron Ayer's Motorsports misplaced my order of gaskets and o-rings, argggh! Rush delivery ordered. Cases put back together.
6/23/99: Block, pistons, head and clutch in place.
6/24/99: GSXR cams on both intake and exhaust installed and degreed to 107.0/102.5.
6/25/99: In one piece. Sounds good and no oil leaks. Didn't ride, rain...
6/26/99: Raceday. New ET record - 6.308 @ 117 even though I let off. Should have been close to 6.26 @ 124 !
6/28/99: Degreed the cams to 104/103 for more midrange torque.
---
Date 11/22/98: Lesson #1: What happens with high lift cams, milled head and weak springs when rev'd too high?
Date 1/4/99: Got the upper case welded by Virgil Naff at Lynchburg Kawasaki.


Date 1/5/99: Left the crank and rods at Don's Automotive (Madison Heights VA) for a magnaflux and shotpeen.


Stock pistons, blew only one. Thanks Larry for the spare piston and rod!
Date 1/6/99: Ordered all gaskets for the motor
Date 1/7/99: Got a used head from Schnitz Racing, seems to be in quite a good shape. Has stainless valves with oversized on the exhaust (good for NOS!) and it has got some serious porting done to it, not a regular street job. The differences can be seen below between my home made porting and some professional work. It's even more shaved than my B12 head, I think I have to use an extra base gasket to be able to run on pump gas.
Click on thumb-nails for a bigger images


The ported head from Schnitz Racing, notice the flat intake surface

Ported oil pump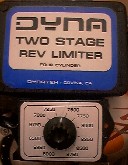 Bought a used two step rev limiter just for fun... have to see if it works.

I still haven't got the new sleeve from LA-Sleeve, damn damn... 8 weeks delivery time!
Note: Still haven't got the sleeve... 2/13/99

This sledge in stock shape is NEVER going to be faster than my Bandit!
Date 1/13/99:

Well, I have to work SOMEWHERE... why not the kitchen?
Date 1/14/99: Ordered a new cam chain from Banzai Motorsports (dorks), was told it should arrive within two weeks.
Date 1/18/99: Ordered a GSXR sleeve, stock item, should arrive next monday according to LA-Sleeve.
Date 1/21/99: Got a spare stock GSXR head today, too badly worn, will be replaced without any cost.
Date 1/22/99: Still no sleeve or cam chain in sight, another useless weekend... ;-(
Date 1/24/99: Started crank and rod assembly, cleaned and painted the upper case.
Date 1/25/99: Got the GSXR sleeve, the outer diameter is 0.02 too small, it's 3.360 and the GSF1200 is 3.380, rats. Returned...
Date 1/26/99: NOT returned, swapped the GSXR sleeve for a barley used Bandit sleeve, thanks again Larry !
Date 1/29/99: Got the sleeve from Larry by 9.44am by UPS. Got the cylinder block honed by Virgil Naff at Lynchburg Kawasaki, for free! The cam chain is backordered from Suzuki so I started to assemble the motor, cam chain will last 5000 more miles. Ordered a NOS-kit (Yeehaa!) and Stage 2 kit (for easy carb access) from Dale Walker at HoleShot Percormance
Date 1/30/99: The Motor is in the frame! Rats, forgot too many things in the appartment. Back and forth, back and...
At 10pm I discovered that I have forgot a copper washer, went home and grabbed a bag of Frito Lay and a Coke. Good night!
Date 1/31/99: Too cold, +30F and a windchill factor of +20F. The head was torqued and cams installed, that's all...
Date 2/1/99: Too damn cold today, +29F and freezing rain! I'd rather stay at home today...
Date 2/2/99: Found out today that the cylinder head I bought from Schnitz has a valve job for a camshaft with a base circle of 1.070", my GX21 cam is 1.080" and the stock cam is 1.114" so the rocker arms is resting on the retainers - which is NOT good at all. Have to either buy me new titanium retainers, do a complete valve job including shorter valves or grind the rockers. Go ahead, make my day!
Date 2/3/99: Ordered titanium retainers from Cope Racing, should be here tomorrow.
Date 2/4/99: Of course, they didn't arrive. What else is new... Cut the valve pockets in the pistons a little bit more.
Date 2/5/99: Got the titanium retainers. Had to grind one a little since it didn't have the same dimensions as the others. Grinded the rocker arms for more clearance between the rocker arm and retainer (due to high lift valves and camshaft base circle). Installed the stock pistons, now with deeper valve pockets. Installed the cylinder block and head. Installed the GX21 cams, intake @ 103.5 and exhaust @ 106. Piston to valve clearance is now more than 0.1" from 30° BTDC all the way to 30° ATDC, cool! Getting colder, (that's not cool!) went home at 10pm.
Date 2/6/99: 4.30pm, IT'S ALIVE! Went for a 15 mile ride! All it took was 2 1/2 months, blood, sweat, tears and... money.
Date 2/7/99: It's raining.
Date 2/8/99: +55F and a 70 mile break in ride on twisty roads.
Date 2/9/99: +65F. Valves clearance check. Did some preventive helicoil'ing of the cam caps (for the valve cover). Disassembled the swing arm, to be sent to Dale Walker's HoleShot Performance for a 6" extension. Adjusted and grinded the V&H Pro Pipe to fit better, a really bad finish on their products I would say. Which frankly means, A PIECE OF CRAP, but cheap!
Date 2/10/99: +67F. Sent the swing arm to Dale Walker's HoleShot Performance by UPS. Finished the valve adjustment and put the valve cover back again. Mounted the V&H Pro Pipe (for a GSX1100R 86-90) and had to bend the hoses to the oil cooler to make it a snug fit. Fired it up, KABOOM BRAP WROM , it's LOUD - that's for sure, but a pain to install, bad quality! Have to tweak the rear brake pedal to make place for the megafon, don't know yet how to do it... and I have to fabricate a mounting bracket.
Date 2/11/99: +70F. Got the NOS kit, Holeshot Stage 2 jet kit and a new cam chain. Installed the Stage 2 and started re-wiring/clean-up of the added electronics. Trailer, hm... have to have a trailer. Looked at a tilt type 5x10 for only $595.
Date 2/12/99: +71F at noon. Fever & dizzy. Went home into bed. +48F at 4pm. Fixed the V&H Megafon mounting and a muffler insert for those friday night show off's.
Date 2/13/99: +35F at noon. Stayed home whole day, no work done.
Date 2/14/99: +38F at noon. Removed the old electrical wiring. Drilled the NOS bottle bracket. Drilled and mounted the NOS Foggers to the intake manifolds. Removed some material from the rear brake lever stop and adjusted its height. Crap, the NOS bottle was empty. At 5pm I was freezing my ass off, RATS! Short day...
Date 2/15/99: +45F at 5pm. Fooling around with the NOS bits and pieces, damn hard to find a place to put those solenoids, fuel pump and distribution blocks. Bottle bracket made it to where the right rear peg used to be. Manifolds and carbs in place. The left side oil hose from the Y-distributor block had to be bent to clear #2 fogger in the manifold. Not that much done today, really... The manual says it takes 4 to 6 hours for the installation, HA... what a joke!
Date 2/16/99: +65F at noon. Filled the 2 lb NOS bottle. After 3 hours of plumbing I'm almost done with the NOS. Still have to find a place for the fuel pump, fuel pressure switch, NOS pressure gauge and NOS arming switch. Oh yes, and the throttle switch...
Date 2/17/99: +45 and raining. Done with NOS and fuel plumbing. Wiring started... and that's a lot!
Date 2/18/99: Installed the shift light, automatic shifter and two-step rev limiter. Click for larger pictures.
Date 2/19/99: Tired? What, me tired? Last thing I remember was ER...
Date 2/20/99: +45F. More wiring... looks like a rat's nest!
Picture of the fogger installation

Date 2/21/99: +42F. Plumbing done. Wiring done, except for the air compressor and horn/air-shifter button. I need my extended swing arm!
Date 2/22/99: +32F. Air compressor, done. Air switch, done. Nylon ties, at least 25. Some more re-wiring.
Date 2/23/99: +30F and snow. Modifying the Dynatek two-step (6000 to 8750) launch rpm limiter to work from 4000 to 8750 rpm, really easy to modify. Works great! Show in detail on my tech info page.
Date 2/24/99: +28F. Got the swing arm today. Perfect fit! Stock rear brake hose re-routed just fine. Long chain didn't arrive. Only one master link. No testride. I also have to make a 5.5 inch extension for the rear caliper arm. Forgot that one... always something.
Date 2/25/99: +28F. Picked up the Suzuki GS1150 five/six gear shift indicator, to be used with NOS in 2nd gear and up. Got the caliper arm extended during lunch at Honda/Suzuki Lynchburg, for free. Well, should be... I must be their best customer - ever! :-) Got two master links from Harley-Davidson Lynchburg, the only bike shop in town that did have "530" links. Rear wheel was mounted and a brand new 114 link chain was extended with 14 links from a not so new, total 128 links. Yes, I did put some goo on the clip. That's all for today.
Date 2/26/99: +50F. Finished, got it up and running. Replaced two fouled plugs. Pictures on the Bandit Main Page. Haven't tried the NOS yet, too much traffic - it's friday, totally jammed everywhere.
Date 2/27/99: Oil change. Adjustments. Electrical fix-up's. Test ride. Nitrous doesn't work, either fuel pressure switch or gear indicator. Have to look at that later next week, don't have much patience left...
Date 2/28/99: Todays Test and Tune at Eastside Speedway in Waynesboro VA rained out. Went for a couple of Holeshots between Bedford VA and Big Island VA on SR122 (yes, THE infamous one). The bike seems to work all right, except for the nitrous. 1st and 2nd gear wheel spin, feels a little stronger than before, at least it should be! :)
<END> Consider this daily diary page closed. Will not be updated until I blow up my motor again.