Borlänge Open 2006 (3 Mb) Turbo-gixxern i kvartsfinalen
uppsala-open-2005.mpg Uppsala Open 2005 (28 Mb) Banditen med S60R k24 turbo på E85

287.wmv - Bike Weekend 2003 - time trials (400k) Sugmotor med trasig vipparm
Anders Brink - Svensk MC dragracing
Foto, Kryptoniten!

Foto, Kryptoniten!
PSB - Pro Street Bike, SPSB - Super Pro Street Bike
<<<Trimning/renovering av topplock med Mira fräs, info & priser>>>
Main web site @ http://andersbrink.se/
Some dragrace videos at adelphia/index.html
also check out (if still online) http://users.lynchburg.net/anders.brink
BrinkShifter-2 Manual, My own "quick shifter" module, available for $90 (800 SEK) + shipping. Bullet proof design, fully electronic.
Contained in a plastic box with an indication LED, externally variable from 20 ms to 150 ms. External high current relay (included).
Bygger nya bara om det är en GAMMAL quickshifter som gått sönder i en eldsvåda, översvämning eller virvelstorm. Jag bygger inga nya.

Pictures of the BrinkShifter-2 PCB-boards (click on images for a larger view) and schematics. Build your own!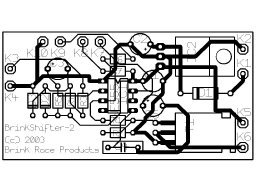 ---
Too rich on fuel after shutting off the nitrous.


Me racing at Lunda


rockburn.wmv - Burnout at Rockingham Dragway. Wicked idle sound! Nov 11 2000
---
COMPRTO2.ZIP Old DOS program, calculates the compression ratio in a motor, including source code in pascal.
---
mailto:removethis@andersbrink@andersbrink.se@removethis.to
---







Search engine keywords:
Anders Brink Svensk Sverige Sweden Motorcykel Dragracing Drag Racing Hedesunda Ericsson Hellmopper Suzuki Bandit gsxr gsxr1100 tuning nitrous oxide MIRA valve grinder valvejob porting portning tuning trimma trimning plastning epoxy devcon